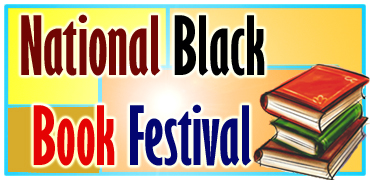 . . .Dozens of Authors
. . .Thousands of Readers
. . .All At One Event
FREE GENERAL ADMISSION TO THE PUBLIC
October 24-26, 2013 - 6th Anniversary - Houston, Texas
Location: Fallbrook Church - 12512 Walters Rd., Houston, TX 77014
---
At the 2013 National Black Book Festival an author will be presented with the coveted 3nd Annual Best New Author Award. The award will be presented at the Festival's Welcome to Houston Reception on October 24, 2013. This award will be bestowed upon the new author who exhibits superior writing skills and has developed a significant audience based upon online book sales.
*************
2013 Best New Author Grand Prize
The grand prize for the award includes the following:
Free travel arrangements to the Festival, including airfare and hotel, paid for by NBBF
An award plaque indicating 2013 NBBF Best New Author, presented at the Thursday evening reception (ticket purchase required for attendees)
Special guest featured author appearance on Friday, October 25, with a specified two-hour signing time in the morning
Live, on-site radio interview at 2013 NBBF
Photo in 2013 NBBF newspaper
*************************
Criteria for Award Consideration for 2013
Following are the criteria for award consideration:
Author's debut book (first published book of any kind) must have a verifiable release date of 2011, 2012 or 2013. Debut book may be of any genre or category. Release date of debut book will be verified by our research staff. Please do NOT submit an essay if your debut book (first published book) has a release date prior to 2011.
Author's debut book must be a perfect-bound (paperback or hardcover) book OR an e-book of at least 75 pages. Spiral bound journals, workbooks, booklets, pamphlets or any work that is not a perfect-bound book OR e-book will not be considered. Authors of e-books are allowed in the competition, as long as their books are at least 75 pages. The e-book must be available for sale online and must be verifiable. The book must already be published at the time that the essay is submitted.
For self-published books that are subsequently picked up by a major publisher, the release date of the latter book is the one that should be used for qualification purposes. For example, if a book was self-published in 2010, but was picked up by a major publisher and re-released in 2012, the 2012 date would qualify the author to enter the award process, IF the book is his/her debut book.
Author must be a legal citizen of the United States and reside in the contiguous 48 states.
Author must be able to travel and attendance at the Festival to accept the award is mandatory
Since only one author can win the award, books with co-authors are not eligible for this award.
The following individuals are NOT eligible to be nominated: NBBF employees, affiliates, directors, partners or steering committee members; authors who have been semi-finalists or finalists from a previous NBBF Best New Author Award competition.
Author must be at least 18 years of age
Nomination Guidelines
Authors must be self-nominated and adhere to the following procedure:
Nominations will be accepted from February 1 to May 31, 2013.
Information must be submitted all together and at once via e-mail. Information will NOT be accepted in piecemeal fashion.
Author must submit the following information via e-mail at one time, in one document or file: 1) A 200-word essay titled, "Why I Became A Writer." 2) Title, publisher and official release date of debut book. 3) Contact information, including author's name, address, phone number and e-mail address. Essay should be between 175 and 200 words, not to exceed 200 words.
Information must be submitted via e-mail in a Microsoft Word format, as an attached file, to the following e-mail address: info@nationalblackbookfestival.com

Award Judging Process
Award nominations process will be as follows:
All submissions will be read by the selection committee and assessed based upon content, overall presentation, grammar and punctuation, and writing skills. The twenty (20) most outstanding essays will be determined. Thus, the most important part of the award process is the essay submission portion. This list of twenty (20) authors will be the semi-finalists. The semi-finalists will be announced on June 30, 2013.
Next, from the list of semi-finalists, the ten (10) authors with the highest level of online sales from any or all of their books, as shown on three book selling sites (e.g., Amazon.com, BN.com and Cushcity.com), will be determined. This list of ten (10) authors will be the finalists and the list of finalists will be announced no later than July 20, 2013.
A panel of ten (10) book clubs will be selected at random to assess the finalists' essays. The clubs will rank the essays and will select the 1st, 2nd and 3rd choices for winner. The clubs' rankings will be compiled and the winner of the Best New Author Award will be selected on that basis. The winner will be announced no later than August 15, 2013.
*************
If there are any questions about the award or the award process, please send them via e-mail to info@nationalblackbookfestival.com.
---
Home Overview Sponsorship Exhibitors Volunteers Advertising Media Center Event Tickets Contact Us