The Love Commitment: From Meeting To Marriage In 2 Years or Less
Workshop Presenter:
Doc Scriven
Author, The Love Commitment
Saturday, June 9 @ 1:00 p.m.

This seminar begins with a fast-paced, 30-minute documentary that exposes why few Black relationships today make it to marriage. An interactive discussion follows and the seminar climaxes with the key to move your current relationship forward or go from meeting to married in two years or less. Trust me...you do not want to miss this session!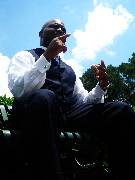 Darryl "Doc" Scriven is the co-founder of The African American Family Enrichment Institute in Atlanta, Georgia and, as such, is committed to building families that will thrive for generations. TheLoveCommitment.com is his second novel. To contact Doc, to find out when he will be speaking in your area, to host a Love Commitment Seminar for your group, or to obtain special discounts on orders of this book, visit www.TheLoveCommitment.com for details.
Get driving directions to the Doubletree Hotel
For more information, please contact us via e-mail at: info@nationalblackbookfestival.com
---