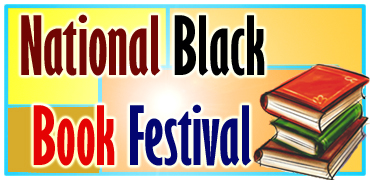 . . .Dozens of Authors
. . .Thousands of Readers
. . .All At One Event
FREE GENERAL ADMISSION TO THE PUBLIC
October 24-26, 2013 - 6th Anniversary - Houston, Texas
Location: Fallbrook Church - 12512 Walters Rd., Houston, TX 77014

---
Volunteers
The National Black Book Festival (NBBF) is in need of volunteers on Thursday, Friday and Saturday, October 24-26, 2013. Requirements for volunteers are as follows:
18 years of age or older
Commit to volunteer a minimum of 4 consecutive hours on Thursday, Friday or Saturday (Oct. 24-26, 2013)
Sign up as a volunteer by October 15, 2013 and request volunteer position desired
Agree to accept assigned position, which will be designated by NBBF on a first-come, first-serve basis
Agree to act in a professional and respectful manner at all times
Become familiar with Festival layout and schedule
Benefits for volunteers:
Free admission to Festival on both days (not to ticketed events, except for event hostesses)
Free NBBF T-Shirt
The number of volunteers needed per day, for each position, is included in parenthesis:
Event Hostesses (3): Greet and sign in attendees at one of the three Festival eating events (Welcome to Houston Reception on Thursday evening at 7:00 p.m. ; Get Acquainted Breakfast on Friday morning at 8:00 a.m. ; Saturday Networking Breakfast on Saturday morning at 8:00 a.m.)
Greeters (6): Greet Festival guests as they arrive, pass out NBBF newspapers and direct them to appropriate locations
Runners (2): Run errands on-site for Festival coordinators. Will be needed on all three days.
Information Desk Attendants (2): Assist Festival attendees with inquiries, etc.
Media Room/Media Table Attendants (2): Sign in media reps and give them their badges. Assist with on-site radio interviews for authors.
Bookstore Assistants (2): Assist with on-site NBBF book selling area.
Security Aides (4): Assist with maintaining traffic flow, keeping aisles clear, reporting any disturbances, etc.
Seminar Monitor (2): Assist with seminar schedule, direct seminar participants to room, make sure that seminars start on time, end on time and room is cleared between each seminar.
Book Launch Party Assistant (2): Assist authors who have book launch parties with locating their areas, making them comfortable, make sure launch parties start on time, end on time and area is cleared.
Featured Author Escort (2): Assist featured authors with locating room where their session will be held, making them comfortable, etc.
If you are interested in volunteering, please send an e-mail to info@nationalblackbookfestival.com and provide the following information:
Your Name
Your phone number (cell phone preferred)
Days and hours you are available to volunteer
Desired volunteer position(s). Please list 1st, 2nd and 3rd choices.
You will be notified via e-mail regarding the day and time of your assignment and the position you are assigned. Assignments will be made on a first-come, first-serve basis.
---