The Financial Habits Authors Should Be Aware Of
Seminar Presenter:
Michael D. Wynn, CFE

Saturday, October 28 @ 1:00 p.m.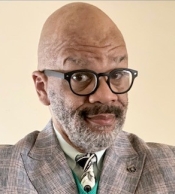 Michael Wynn is a habit success strategist, financial literacy expert, speaker and 2x bestselling author, with over thirty-five years of experience in financial auditing, business compliance, and grant monitoring. During his career his inspirations led him to get certified as an authenticity coach, financial literacy trainer, and fraud examiner, to be accountable and consistent with habits. He is the founder and CEO of Coach Win, LLC, and Wynngate Associates, LLC, where he teaches, consults, and trains both individuals and business teams on financial literacy and professional development. After COVID-19, he re-launched his second book The Habit Effect – Your Life, Your Money, with the foreword recently done by Dr. Delatorro McNeal II, MS, CSP, bestselling author of Shift Into A Higher Gear.
In this seminar, Michael will discuss the following:
The value of financial stability and good habits for your book projects
The essential business practices and habits to have as a professional author
Designing a money flow plan for the cost of publishing and promoting your book
Protecting your reputation as a professional author by being credit worthy
Building a successful business with the right business plan and business structure
Keep what is rightfully yours by protecting your copyrights, trademarks, sales, computer cyber and social media from all unwanted opportunities, scams and fraudulent activities
Visit the presenter's website: www.michaelwynn.com
For more information, please contact us via e-mail at: info@nationalblackbookfestival.com
---